WARNING - THIS PROJECT AND SOFTWARE IS AVAILABLE UNDER "AS-IS" WITH NO WARRANTIES. THIS APPLICATION IS IN ITS ALPHA STAGE AND IS SUBJECT TO FAILURE OR CAN CAUSE DAMAGE TO YOUR BROWSER OR A REMOTE WIKI RESPOSITORY. IF YOU HAVE QUESTIONS PLEASE CONTACT MGALLI AT MGALLI DOT COM.
Instructions - Use Case
Our goal is to test this system in a real educational environment and evaluate how the system can support participants to collaborate and create open educational resources. The use case relates to an ongoing event that happens in a period of time, such as a lecture given by a professor or a video presentation. A number of participants can express their thoughts as the time-based session goes on. The collaboration repository is kept in a wiki page and the Expression Widgets JetPack application is a mediator that supports the user to take content from the Web and adapt as content that is shared in the repository. If you have suggestions or if you are willing to test this at your location please keep in contact - mgalli at mgalli dot com.
Pick a Wiki "Class" Repository
JETPACK FOR LEARNING DESIGN CHALLENGE NOTICE - THESE URLS ARE SET UNDER THE MOZILLA WIKI FOR NOW. BEWARE YOU ARE POSTING CONTENT TO A MOZILLA PROJECT. YOU ARE RESPONSIBLE FOR CONTENT YOU POST TO THESE URLS.
In order to get the Expression Widgets Jetpack application working you will need:
1) A Wiki URL - preferable under the media/wiki Mozilla at this point
2) A Wiki User Account - so you can login/save to the wiki page
3) To create your 'screenname' section in the wiki URL(1)
The current version of the application is compatible with the Mediawiki+Mozilla wiki markup format. For initial evaluation purposes, we did setup the following URLs which you can use for tests. These URLs were setup as part of this project and are not endorsed by Mozilla. Please pick an URL or create a new URL for you. Class 1:
Class 2:
Class 3:
Class 4:
Create your Wiki User account
You will need to create a wiki username account using the above URL of your choice. If you have a wiki username and you have rights to edit the wiki page, then proceed to the next step.
Create your User Section
Edit the wiki page and type a section like the following example. This will be your screenname and you will need to type the exactly the same characters in the Expression Widgets login field. :

===MyScreenName===

Example:

With the 'screenname' section in the wiki page along with the URL you should use these values in the Login and Class fields in the Expression Widgets application panel, then click Login button. Example: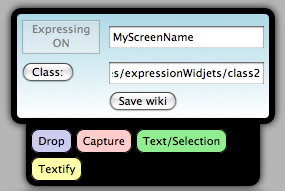 Start Collaborating..
You can then use the widget elements under the black panel. Each widget has instructions on how to use or you can also visit the
overview video
.
Additional help
You can also visit the
demo video
on how to use the app.